Tiny Tots starring Beech Tree Puppets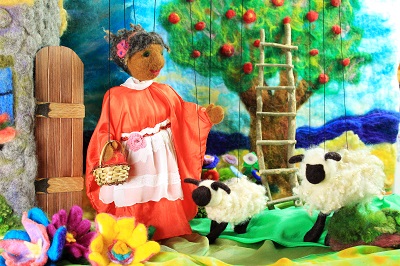 * Part of our Tiny Tots Series *
We're so happy to be introducing Beech Tree Puppets to our Tiny Tots audience, now performing The Apple Tree! In this marionette show, a woman lives in the countryside wi

th her l

ively dog, her shy cat and her cuddly sheep. She decides to plant an apple tree so she can make a pie for her birthday. She is surprised by an unexpected little helper. Warm colors and beautiful singing bring special magic to this 30-min. show The Apple Tree teaches about life cycle of the tree, farm animals and plants, butterflies, change of night and day, music and visual arts and contains themes of self-reliance, community, and helping.


Beech Tree Puppets features meaningful stories, artfully told with hand-crafted puppets and sets and the use of simple instruments and beautiful singing. Beech Tree Puppets has performed hundreds of shows in schools, libraries and public spaces all over the greater DC region, including The National Theater in DC, the Atlas Performing Arts Center, and at the Durant Arts Center in Alexandria with the National Puppetry Guild.
Ingrid and Ole Hass infuse Beech Tree Puppets with their professional experience in the performing and visual arts. Both hold Masters Degrees in Opera Performance from the North Carolina School of the Arts. Ole also holds a Doctor of Musical Arts Degree from UMD in College Park and Ingrid earned a BA in Studio Art from Smith College. Since moving to the Washington DC area in 1998, they have sung and acted with many of the great performing institutions in classical music around the area. Ingrid has been teaching art and music classes for children of all ages for 20 years.

Come see The Apple Tree, always at 10am!


Saturday, August 6th
Sunday, August 7th
Wednesday, August 17th

Come see Adventures with Anansi, always at 10am!


Saturday, Spetember 11th
Sunday, September 25th

More dates and titles coming soon!
Looking for another date? Check out Tiny Tots starring Bob Brown or Tiny Tots starring Penny Russell on our main event listings.
At this time, the Puppet Co. is reevaluating Covid safety policies monthly. All those over the age of 2 are

required to mask

inside at all times.
Ticket Price: $8 per person
Tickets required for all ages 2 and up, and for little ones starting to crawl or walk.
(Please help us make sure that there's room for everyone when considering if your child needs a paid ticket. Call the Box Office to reserve their free ticket.)

Questions? Call the box office.