Hershel and the Hanukkah Goblins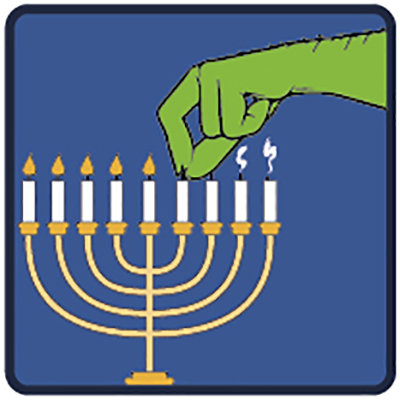 * Part of our Mainstage Premiere Series *



Hershel just wants to celebrate Hanukkah with the community, but the Queen and King of the Goblins have forbidden the lighting of the candles. Can Hershel save the day and lift the curse for this shtetl (village)?

Our new production of Hershel and the Hanukkah Goblins is directed by Liz Dapo, and features the talents of Danny Pushkin, Kristina Hopkins, Moira Todd, Kirk Bixby, Liz Dapo, and understudy Brigid Wallace.

Script by Stephen Laughton. Original book written by Eric Kimmel and illustrated by Trina Schart Hyman.

November 18, 2021 - November 21, 2021

Thursday and Friday at 10:30am

Saturday and Sunday at 11:30am and 1pm

November 26, 2021 - January 2, 2022

Select Thursdays and Fridays
at 2pm
Select Saturdays and Sundays at 4:30pm
With a special performance at 7pm on the first night of Hanukkah, November 28th!
Join us during Hanukkah (November 28 - December 5) to take home a special gift.
Ticket Price: $15 per person (under age 2 no ticket required)
Questions? Interest in group rates? Call the box office.